0 Kainuu Diaspora around the world
Our in-person family gatherings
Ireland's President Higgins family message
Our TEDx talk about family gatherings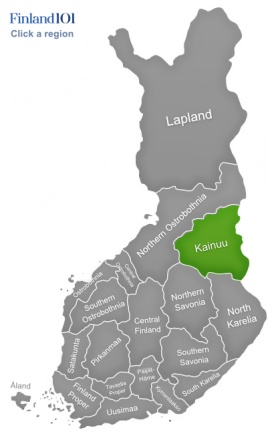 Kainuu is one of the 19 regions in Finland and covers 22, 687 km². Bordering Russia and 3 other regions in Finland - Northern Ostrobothnia to the north and east, North Karelia and Northern Savonia to the south, Kainuu also has 8 municipalities in the region while being both the largest region and the capital.

Population and Landscape
Inhabited by more than 75, 000, Kainuu is quite sparsely populated and mostly covered in boreal forest, which is made up of a mix of trees including spruces, pines and birches. Other than the largely uninhabited forest there are also lots of hills and lakes in this region. At 885 km² the largest of these lakes in the region is the Oulujärvi which is also the fifth largest in Finland. There are no large mountains in the region, but there are large hills with the highest peaks being as high as 385 m.

Climate
The temperature in Kainuu ranges from temperate and warm in the summer months of June, July, and August (10°-20° C) to freezing in the winter months of December, January, and February (-17°- 7° C) during the winter months.
Monthly rainfall is 30-40 mm inches on average, with July being the highest month with an average of nearly double that at 74 mm.
Economy
Nearly two-thirds of the jobs Kainuu are in the service sector, with the rest mostly being in the construction and forestry industries. Most of the service-oriented jobs are related to the tourism industry in the area from the ski resorts and lake attractions which bring in the largest number of domestic and international visitors. 
Tourism
There are two major tourism seasons in Kainuu, summer and winter, with winter being the most popular of the two due to three large ski resorts. The resorts, Paljakka, Ukkohalla, and Vuokatti (which is home to a very unique Angry Birds experience) offer downhill skiing and other attractions that draw a large base of domestic tourists.
International visitors only account for around 10% of the total annual tourism, with many of them coming from Russia. In the summer months these same resorts are visited for hiking and water activities on the lakes of the region. 
Education
Kainuu has three main institutes of higher education and they're all located in the capital town of Kajaani. The Kajaani University of Applied Sciences (KAMK) offers studies in the fields of tourism, healthcare, business, and information systems. AIKOPA focuses on adult and continuing education and is a partnership of KAMK and the University of Oulu. The Kainuu Vocational College teaches very specific skills or trades that are connected to the industries of catering, transportation, healthcare, and tourism.