0 Kymenlaakso Diaspora around the world
Our in-person family gatherings
Ireland's President Higgins family message
Our TEDx talk about family gatherings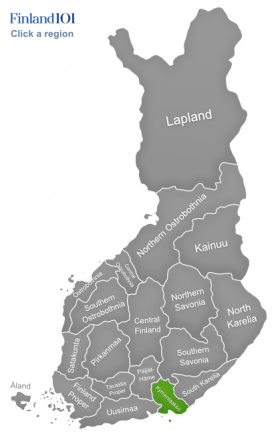 Translating as "the Valley of River Kymijoki", Kymenlaakso is situated in the southeast of Finland and is bordered by four different regions - Uusimaa,Päijänne Tavastia, Southern Savonia, and South Karelia. It is also home to seven municipalities and three cities while the region is best known for an excellent transport system and Revopesi National Park.
Economy
Considerably more developed than most other parts of Finland, Kymenlaakso is relatively small in size which also makes it much more accessible for locals and visiting tourists. Although mostly dependent on forestry to sustain the economy, the transport industry is the largest provider of employment and the region shares much in this respect with nearby Russia. Natural in terms of attractions, the landscapes are wild and varied here with a sublime mix of wilderness and coastal features with the River Kymijoki being a particularly prominent reason for such diversity.
Transportation
Another highlight for the regions prosperity is the excellent transportation system and although small in size, Kymenlaakso is currently thriving in this respect. Take for example the Port of Hamina Kotka which is one of the largest commercial trading ports anywhere in Europe or the incredible highway connecting Helsinki and St. Petersburg. Since the earliest civilization, transport has been critical to the success or downfall of every region and this is something which Kymenlaakso seems to have mastered.
Tourism
Kymenlaakso is synonymous with natural landscapes and this has certainly helped tourism in the region. Revopesi National Park is undoubtedly the highlight along with Tykkimäki Amusement Park while there are also more popular places to see such as Sapokka Water Garden and the Maretarium. In terms of activities during the colder weather, there are also fantastic museums such as Kouvola Model Railroad Museum and the Maritime Centre Vellamo.
Healthcare and Education
Carea is the social and health service provider in Kymenlaakso. Municipalities who are part of Carea include Hamina, Kotka, Kouvola, Pyhtää and Virolahti and some of the services provided consist of emergency medical services and special care for the mentally disabled.
And then there is the education system which is currently thriving. There are three main education centers in Kymenlaakso which include the University of Applied Sciences, Etelä-Kymenlaakso Vocational College and Kouvola Vocational College.