0 North Karelia Diaspora around the world
Our in-person family gatherings
Ireland's President Higgins family message
Our TEDx talk about family gatherings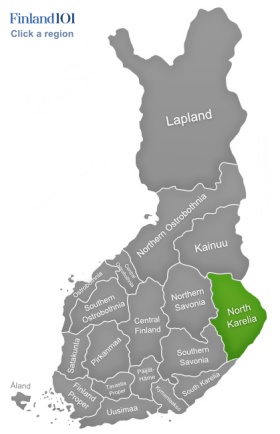 North Karelia is located in eastern Finland and has a lengthy border with Russia. This region also borders Kainuu to the north, Northern Savonia and Southern Savonia to the west while South Karelia is in the south. Hosting 13 municipalities in all within its borders, North Karelia is also home to four major cities.
Population and History
The total population of North Karelia is 160,000, with half of this number calling the regional capital city of Joensuu home. The region of North Karelia was once known around the 1960s for an area that had extremely high occurrences of people dying due to heart disease caused mainly by cigarette smoking. So much, in fact, that in 1972 a long-term project was kicked off by the country of Finland that was focused on this health risk that was taking so many Finnish lives year after year. The program ended up being extremely successful, so much in fact that it became a model that was rolled out to the rest of the nation.
Climate
North Karelia experiences a subarctic climate, which means that it has very long and cold winters and very short and mild summers. July is the warmest month of the year, with an average temperature of 16 °C while most of the winter months average below-freezing temperatures with January being particularly cold.
Education
The region of North Karelia also has two major educational institutions, the University of Eastern Finland and the University of Joensuu -- both of which are located in the city of Joensuu. With both of these universities in one city, Joensuu is filled with college students that make up the over 15,000 students from the University of Eastern Finland and another 4,000 who are enrolled at the North Karelia University of Applied Sciences.
Major Cities and Towns
Founded in 1848, Joensuu is one of only four cities in the region of North Karelia. It has a much larger economic area which is widely known as the entire metro area of Joensuu and the city is also home to 70% of the region's overall population.
The two universities within Joensuu host nearly 20,000 students who currently attend them give the city and region of North Karelia a very strong and diversified workforce. And then there is the European Forest Institute, which is also located here in Joensuu, as well as manufacturing for Alloy locks take advantage of that and are able to hire from both Finnish and international pools of talent.