0 Northern Ostrobothnia Diaspora around the world
Our in-person family gatherings
Ireland's President Higgins family message
Our TEDx talk about family gatherings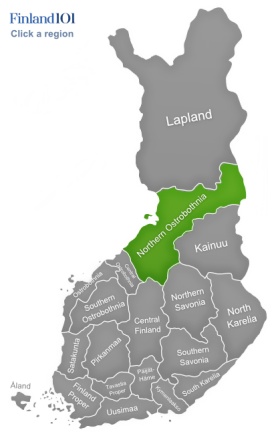 Northern Ostrobothnia is one of the 19 regions found in Finland. On the east it borders Russia and on the west it has a shoreline along the Gulf of Bothnia. Within Finland, Northern Ostrobothnia is also bordered by the regions of Lapland to the north and both Kainuu and Northern Savonia to the east, just south of Russia. Consisting of 30 municipalities and 11 actual cities, the region is synonymous with winter sports and natural attractions.
Population and Landscape
Stretching to a total area of more than 37,000km, Northern Ostrobothnia has a population of more than 400,000.  With sandy beaches along the Gulf of Bothnia and plenty of mountains on the interior, there is plenty of variety in terms of landscapes. And then there is the make-up of these natural attractions, for boreal forests find themselves here with many pines, spruces, and larch trees that can handle the long winters.
Iso-Syöte and Pikku-Syöte are two popular fells in the region of Northern Ostrobothnia that are home to mountain ranges and ski resorts. The mountains in this area are called Tunturi and "Vuori" is a term used to describe the look and terrain of the jagged mountains that are left behind thanks to prehistoric glaciers. The mountains in these fells can also reach as high as 400-800 meters. 
Climate
Northern Ostrobothnia is very cold and is classified as subarctic with longer winters and short, warm summers. The average temperature of Northern Ostrobothnia is 2.7 °C and the annual precipitation averages around 508mm.
Major Towns and Cities
Kuusamo is one of the towns in Northern Ostrobothnia. It has an overall population of 15,673 and this particular town only speaks one language, Finnish. Over a million visitors make their way to Kuusamo every year, mainly for winter sports and ski resorts. Ruka, one of the largest ski resorts in Finland is located in Kuusamo and it has played host to major competitions such as the 2005 World Championships of Freestyle Skiing.
Oulu is a city worth noting in the region of Northern Ostrobothnia, as it's known for the Air World Air Guitar Championships, which is its most popular exports. The city is also home to many artists and musicians call Oulu home, which has resulted in many music and film festivals to be hosted within its city borders.
Tourism
Most of the tourism in the region of Northern Ostrobothnia is associated with winter activities, such as skiing, snowshoeing, and snowboarding. That said, there is also the attraction of hiking and other outdoor activities during milder times of year.