0 Northern Savonia Diaspora around the world
Our in-person family gatherings
Ireland's President Higgins family message
Our TEDx talk about family gatherings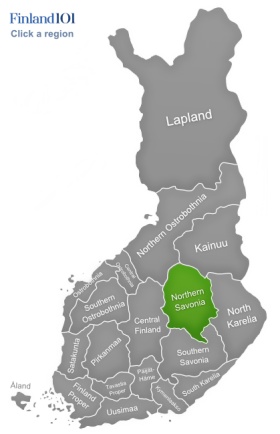 With a reputation for frosty weather, excellent education opportunities and the World Cup for Ski jumping, Northern Savonia is a central region in Finland with five neighbouring Finnish regions. Northern Ostrobothnia lies to the North and Kainuu to the northeast, while to the west is Central Finland itself.
Population and Climate
The largest city in Northern Savonia is Kuopio which has more than a quarter of a million in terms of population making it one of the most populated in Finland.
Often referred to as a subarctic region, Northern Savonia experiences plenty of snow and cold weather while the summer months are very short. That said, the highest temperatures between November and March are still below freezing and it is only between June and August that this rises to approximately 20°C
Major Cities and Towns
Renowned for being the educational capital of the country, Kuopio is a city in Northern Savonia which is also home to modern network for transport, for it is here, you can find one of the largest networks of pedestrianized streets which make for a very safe commute around the city.
Another highlight as mentioned above is Education which is a focal point in the city. Colleges and universities have been opening in this region since the early 1800's including the Savonia University of Applied Sciences and the Vocational College of Northern Savonia. In fact, the presence of excellent education facilities oversees Kuopio as one of Finland's most attractive prospects for young students. In this sense, it has a very young population and the highest number of students anywhere in the country.
Tourism
Naturally, Winter sports and activities are the the main attraction in Northern Savonia, most especially in the resort town of Tahkovuori where Puijo hill and the tower of Puijo are particularly popular. Skiing and extreme winter sports are common in the region and it is also the location for the yearly World Cup of ski jumping.