0 Ostrobothnia Diaspora around the world
Our in-person family gatherings
Ireland's President Higgins family message
Our TEDx talk about family gatherings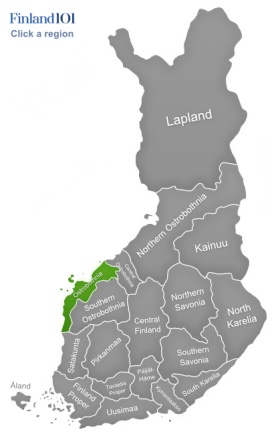 Ostrobothnia is situated in the western-most side of Finland. It has a very long stretch of shoreline on the Gulf of Bothnia, which makes up the entire western border. It also borders Central Ostrobothnia in the north, Southern Ostrobothnia on nearly all of its eastern border, and for a small stretch of border on the south, Satakunta.
Population & Language
The population of Ostrobothnia is more than 180,000 although most of this number is currently living in the capital of Vassa. There are 15 municipalities in the region of Ostrobothnia and six hold the status of being a city. The region is unique that it has municipalities that speak either Finnish or Swedish exclusively. There are only two regions in Finland where Finnish-speaking is a minority to another language, with Ostrobothnia being one of them.
Climate
Ostrobothnia is home to a subarctic climate, which gives it long and severe winters and cool, short summers with strong seasonality and no dry season. The average temperature here is 3 °C with the coldest month of January having an average high of -4 °C and the warmest an average high of 21 °C. However, this warm weather disappears quickly and the winter owns most of the year. 
Landscape
Due to such a long coastline on the Gulf of Bothnia and the fact that most of the land found here was once the sea bed, there are no major mountainous areas in Ostrobothnia, but there are many rivers as well as  the archipelago of Kvarken. Ähtävänjoki, Kyrönjoki, and Lapuanjok are the above mentioned rivers which flow into the Gulf of Bothnia and then most of the vegetation in Ostrobothnia are actually boreal forests, which are made up of pine, spruce, and birch trees, which withstand the freezing cold temperatures during long winters. 
The Replot Bridge, which is the longest bridge in Finland, connects the island of Replot with the municipality of Korsholm and this is a particularly prominent landmark while many islands along the coast give the region a very unique geographical landscape.
Education
There is nothing significant to mention in terms of economy in Ostrobothnia but it does lay claim to three universities, with the biggest being the University of Vaasa that has nearly 5,000 students, The other two include the Swedish School of Economics and Business Administration in Vaasa and Åbo Akademi, which is the only pure Swedish-speaking university in Finland and located in the coastal city of Turku.