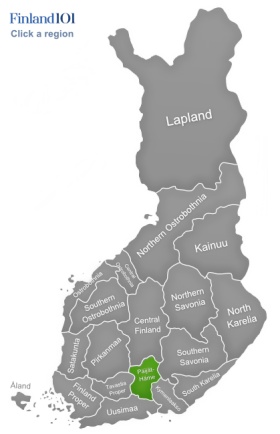 Päijät-Häme is located in the south of Finland, just below lake Päijänne. It borders Central Finland in the north, Uusimaa in the south, Tavastia Proper and Pirkanmaa on the west, and Southern Savonia and Kymenlaakso on the east. It was once part of the Tavastia historical province.
Population and Landscapes
9 municipalities make up the interior of Päijät-Häme, 3 of which are towns or cities, and the total population is more than 200,000. Most locals in this region live in capital city of Lahti and in terms of geographical features, the region of Päijät-Häme is best known for Vesijärvi, a lake close to the capital city of Lahti. Due to damage from extreme levels of water pollution that was caused by large amounts of fertilizer runoff, there was a major restoration plan developed for the lake in the 1970s that still continues to this day.
Another well-known body of water in the region, the Enonselkä Basin, is also a part of Vesijärvi but there are also several boreal forests, which are found all over Finland and are renowned for handling very extreme cold. 
Climate
Päijät-Häme has a subarctic climate, which gives it long and severe winters and cool, short summers with strong seasonality and no dry season. The average high temperatures in the region of Päijät-Häme vary from -5 °C in the extremely cold month of January and 18 °C in the warmer month of July.
Major Cities and Towns
Lahti, which is the largest city and capital of the Päijät-Häme region is located on the southern end of lake Vesijärvi, just 100 km from the capital of Helsinki. Lahti is one of the fastest-growing cities in the country and has a very strong economic hub.
Infused with culture, mainly musical and sports-related, Lahti is also home to the most popular symphony orchestra, The Lahti Symphony Orchestra. There are also very large music festivals that take place annually in the city while Winter sports are at the core of the culture of Lahti, which hosts many different large-scale downhill and cross-country skiing competitions. And then there is the local professional hockey team, The Pelicans, who consistently finish in the top of the league year-after-year.