0 Satakunta Diaspora around the world
Our in-person family gatherings
Ireland's President Higgins family message
Our TEDx talk about family gatherings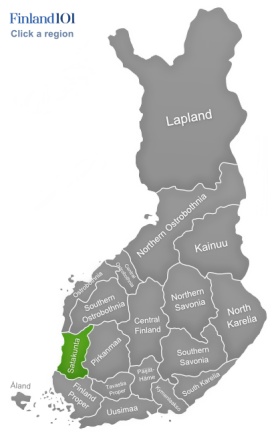 Satakunta, a coastal region on the west side of Finland, is bordered in the east but the Gulf of Bothnia, which is made up of a coastline filled with islands and waterways. It also borders the regions of Southern Ostrobothnia and Ostrobothnia in the north, Southwest Finland to the south, and Pirkanmaa to the west. Satakunta is also home to 18 municipalities and 6 of these hold the status of being a city.
Population and Landscape
Satakunta region has a population of more than 200,000 and Pori, the capital city of the region is the most populous of all. Historically, Satakunta was once a much larger province in Finland that covered most of today's Satakunta region, plus much of the Pirkanmaa region.
The coastline is filled with islands while more inland has more forests, lakes and rivers, which is where most of the most populated areas are located. Given this vast coastline on the Gulf of Bothnia, the region of Satakunta has two contrasting types of geography -- one on the coast and one more inland. Towards the south of Satakunta is an archipelago just outside of the city of Rauma, but there are less islands towards the northern end of the region. But, the delta of Kokemäenjoki is also in the northern end of the region, which is of the town of Pori.
And then there is the Kokemäenjoki river valley which plays an important role in the agricultural landscape in the Satakunta region as it creates a very fertile environment for planting all varieties of crops including potatoes, sugar beets, rye, and barley.
Climate
The Satakunta region receives a cold subarctic climate and temperatures range anywhere as low as -12 °C in the winter month of January to as high as 21 °C in the summer month of July.
Tourism
The city of Pori plays a huge part in the world jazz music scene and has hosted Pori Jazz, an international jazz music festival since 1966. It's not only one of the biggest cultural events in Finland, but the non-day festival is ranked up there in Europe as well as the rest of the world.
The many different concerts that make up the festival are played all around the city with the main stages being set up in the Kirjurinluoto Arena, an open amphitheater-style venue that has a seating capacity of over 30,000 people.These festival happens annually in July and has hosted many legendary jazz artists such as Ray Charles, B. B. King, and Miles Davis as well as superstars from other genres like Elton John, Bob Dylan, and even Kanye West.