0 South Karelia Diaspora around the world
Our in-person family gatherings
Ireland's President Higgins family message
Our TEDx talk about family gatherings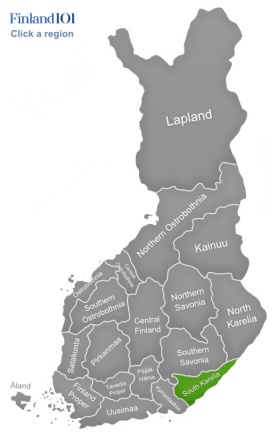 The region of South Karelia is located in the southeast of Finland, bordered by North Karelia to the north and Kymenlaakso in the south. Although a smaller region when compared to some, South Karelia has many things that make it a very popular tourist attraction and educational hub for the entire country of Finland.
Population and Climate
The region of South Karelia, with a total population of 135,252, is split up by nine different municipalities and two of them have the status of being a city, Lappeenranta and Imatra. As for the climate, South Karelia has a subarctic climate with freezing temperature during a long winter and a mild weather during the summer.
Landscape, flora and fauna
Most of the landscape in South Karelia, if not water, is made up of loose soil on top of stronger bedrock that is a result of glaciers making their way across in the Ice Age. Even though this happened thousands of years ago, it's effects are still clearly visible today and is a major reason why the environment in the South Karelia region.
One of the most unique natural wonders in this region are the Salpausselkä, which are large remnants of ancient glaciers. The differences in height for these rock formations can vary and at the highest point you will also find Lake Saimaa. Over the years, their formation has proven useful for constructing paths, roads, and rails for different types of transportation to travel across.
Just as unique as this rocky land is with its traditional pine trees in boreal forests, there is still another very unique landscape in the region of South Karelia that is filled with deciduous trees, which aren't found in many parts of Finland. These types of trees are found in this area due to the wetlands that play host to all types of endangered habitats and the animals who live there, like butterflies, bats, and dragonflies.
Education & Tourism
The city of Lappeenranta in the South Karelia region is well-known for being the best university town in the entire country of Finland so naturally, this means the region is home to a largely youthful population. At the same time, the vast and unique landscapes have also attracted many tourists to explore the waterways, lakes, and unique cultural history in South Karelia which makes tourism an important part of the local economy.