0 Tavastia Proper Diaspora around the world
Our in-person family gatherings
Ireland's President Higgins family message
Our TEDx talk about family gatherings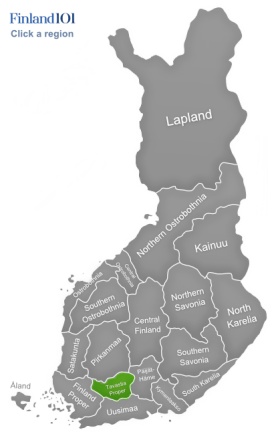 Tavastia is one of the smaller regions in Finland covering an area of just 5,706 Km2. Located in the south of the country and bordered by 4 other regions, Tavastia Proper is split up into 11 municipalities and 3 of them hold the status of being a city.
Population and Climate
The population Tavastia Proper is close to 200,000 and most of these locals are residing in the city of Hämeenlinna which is the largest city within the region's borders. Freezing during the winter and mild during short summers, Tavastia experiences temperatures as low as - 10 °C in the month of January and highs during July of up to 23 °C.
Landscape
Lake Vanajavesi, which is part of the Kokemäenjoki basin and one of the largest in Finland, is found in parts of Tavastia Proper. It gathers water from other surrounding regions and its coastlines are filled with boreal forests made up of mostly pine trees. This very unique landscape and animal habitat, lake Vanajavesi was officially declared one of the national landscapes of Finland and is truly one of the most breath-taking parts of the country.
Culture
Hämeenlinna, which is the largest city in the Tavastia Proper region, is where Jean Sibelius was born. Jean Sibelius is regarded as the most well-known composer in Finland and was also a violinist during the late Romantic and early-modern periods of music. Not only did his music bring joy to people's lives through its uniqueness and creativity, but it also helped Finland build a national identity during its fight for independence from neighboring Russia.
Another unique cultural treasure in the city of Hämeenlinna is the Häme Castle, which is located on the coast of lake Vanajavesi. With a moat filled with water and two towers, of which there were originally five, the castle has been standing since the early 14th century and has been given a few upgrades along the way. The legendary castle eventually was turned into a prison sometime in the 19th century and stayed that way until the city decided to start restoring it. In 1988 the castle was officially converted into a museum and many of its rooms can be rented for events.